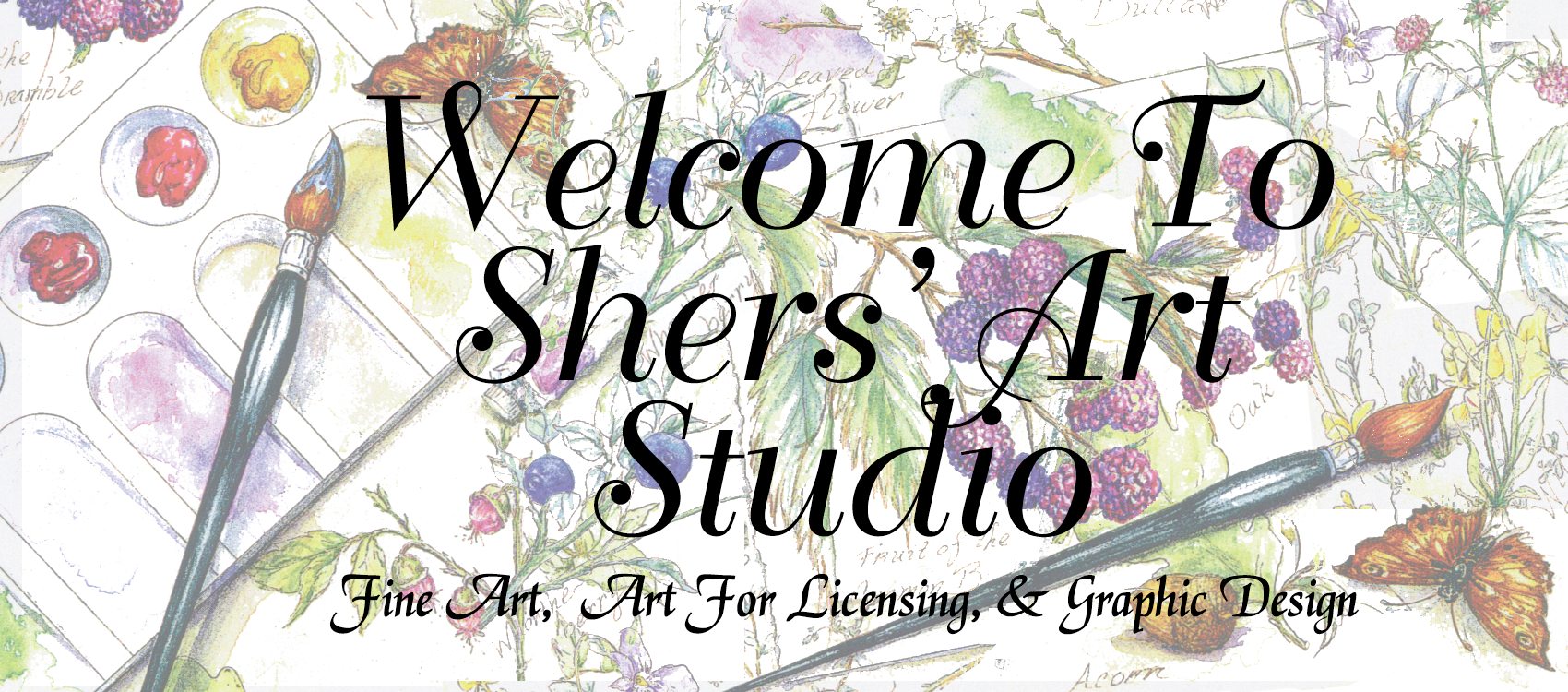 ​​​​​​​
Creating Art to Help You Express Yourself With Style!
Hi, my name is Sher (Sester)Ferguson. My art is licensed under the name Sher Sester. I am a Proven, Professional Designer with an extensive fine art, design, and graphics background. I love designing beautiful products that help you express your style or your company bring products to market that delight your customers.
  I work in watercolors, oils, acrylics, pen & ink, pencil and often combine them with my computer designs. I have studied color and trend forecasting as a member of the Color Marketing Group and apply that knowledge to my designs. I also have experience in in advertising, publication design, illustration, product & package design & illustration, branding, logo & letterhead design. I work and design with Adobe, Illustrator, Photoshop, In Design, Acrobat, Microsoft Word, along with traditional watercolor, oils, acrylics and pen & ink.
  I enjoy painting the world around me to create art suitable for framed prints and new product lines. My paintings sell in galleries, on-line, and in art shows. My fine art reflects the excitement I feel when I find a subject just begging for me to capture it on canvas or paper. I have maintained a flexible style in my commercial art to meet the needs of a variety of customers so that the customers' are identified by the art work rather than myself. My attention to detail and mastery of painting techniques and color is an identifying aspect of my art. I am experienced in product develop, manufacturing processes, and digital, offset & silkscreen printing. I am a Professional Artist blending Fine Art training with Graphic Art experience to produce creative design solutions for fine art, commercial product lines, illustrations and publications. I have a B.A. in Fine Arts and 30+ years' experience as a professional artist. My first position was as an advertising/fashion illustrator for a major newspaper and since have designed and illustrated for advertising agencies, international, national and statewide magazines, children's' books, activity books for zoos and museums, hospitals, charities and gift ware manufacturers. My gift ware designs have sold in gift and home shops nationwide including the Smithsonian Gift Shop, Zondervan Family Book Stores, Mardel Christian Gift Stores, Hobby Lobby, and Spiegel Catalogue
  My husband and I live in Conroe, TX . We have a close family which is rich in love and humor. Our sons live in Oklahoma and Texas. My Mom, sister and her family also lives in Conroe where we gather, and all enjoy our time together. I enjoy exploring Gods' beautiful countryside, sketching nature's beauties or visiting  antique stores, small towns, art museums and sipping a wonderful cup of tea. I hope my art brings a smile to your face or triggers a much loved memory! Art that touches the heart of the viewer and brings you a smile or a cherished memory is the greatest accomplishment of an artist. Please contact me to discuss your design needs. We can discuss licensing my designs, purchasing fine arts or custom designs on assignment to meet your company's or illustration needs.
Thank you for stopping by! Have a blessed day!

Sher
mail:

sher.ferguson@outlook.com

 
Framed Prints and Products with my art may be purchased at